The cellar will initially consist of three rooms.
A built-in shed, where destemming, wine-pressing and fermentation will take place.
A room for the steel tanks, which will be air-conditioned, and a room for withering, where a ventilation system and a dehumidification system will be provided if required by the climatic conditions.
The chemical analysis defines the clay soil, rich in calcium, phosphorus, magnesium and zinc, useful elements to give body, flavor and minerality to the wine that can be produced.
Unfortunately, our territory has some contraindications for vines, though they can be overcome with some attention, a lot of passion and love for the environment.
Passion and a lot of love for nature have given life to this relaxing oasis.
What we have illustrated above is the work carried out over the last 20 years with the aim of preparing a suitable environment for an organic vineyard and cellar. The last 10,000 vines planted are the result of a selection of plants resistant to Peronospera and Oidium with the aim of also avoiding the use of sulphur and copper.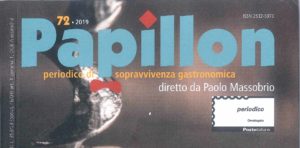 21 December 2019
Recently a short review about our organic cellar appeared on Papillon, a magazine directed by Paolo Massobrio. We want to share it with all of you by bringing you the full text. Enjoy the reading! "Merlara Malvasia "Diana 2017" Sergio Moro, the owner of the restaurant "Aldo Moro" of Montagnana, is a very charming person […]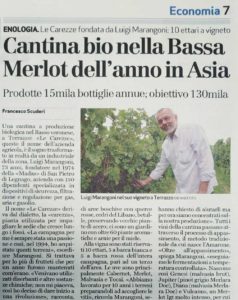 10 October 2019
Interviewed by Francesco Scuderi of L'Arena, Luigi Marangoni talks about his revolution that began more than twenty years ago: reconverting 30 hectares of countryside into an oasis where biodiversity reigns and gives life to the first biological cellar of the South of Verona.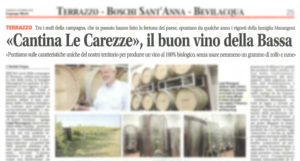 05 October 2019
Luigi Marangoni, interviewed by Daniele Fregno of Legnago Week, talks about his ambitious project: produce 100% organic wine completely free of copper and sulfur-based treatments.
Hi, my name is Martina and I am in possession of the Sommelier qualification.
I visited the countryside and the winery: in addition to being a lovely place for biodiversity, I was able to taste fine wines with intense aromas, so much mineral and well structured. Right balance between quality and price.
MARTINA ANDREOTTI
Those who love high quality wines must absolutely look for this winery in the Veronese countryside in the Terrazzo area. You will not find signs and the contained production of about 10,000 bottles is known only by the lovers and connoisseurs of the area. A vineyard of about 30 hectares absolutely certified organic. The wine varies between Malvasia, Pinot Grigio and Merlot. You will be surprised by the quality that comes from the passion and competence of the owner, Mr. Luigi, who produces with his team with love. Love that feels persistent like the scent and taste that you will find in your glass.
PIERO GIRALDI
Today during a wine tasting on Lake Orta we discovered a young Veronese winery that produces very particular and high quality wines: Le Carezze winery. Genesi, Jupiter, Diana and Vulcanus are their wines produced with grapes ranging from Malvasia to Pinot Grigio for whites to Merlot for red. All wines are rich in aromas, well structured and with a lot of minerality. The value for money is excellent, especially considering that these are organic products. We hope as soon as possible to organize a trip to the countryside of Verona to visit the winery and the vineyard and find out how, in an area not traditionally suited to the production of wines, Luigi managed to transform the passion and love for the land into products of very high quality.
GABRIELE COCCOLO
Last Saturday, at Cantina Le Carezze, immersed in a vineyard kept like a garden, I spent a nice evening in good company, tasting good food accompanied by the excellent wine produced. The idea of suggesting how to combine food with the right wine is interesting.
Definitely an experience to repeat.
PAOLA MARI
Passion and seriousness combined with honesty and the courage to produce organic wines in deeds and not just in words. A beautiful ecosystem in which the growing bunches are expertly processed through the drying technique in order to obtain high quality wines at the expense of quantity: intense aromas, marked minerality and structure are the trademark of Le Carezze wines.
MASSIMO MOMI